Looking through your old CD collection can cause some groans and giggles as you sheepishly admit how your music tastes have changed over the years. Although you might be eager to quickly toss the discs in the trash, you can dispose of them in several better ways. Skip the temptation to throw them out and see if your CDs could make you a few bucks or help someone else.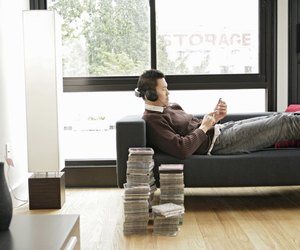 credit: Eyecandy Images/Eyecandy Images/Getty Images
Sell in Stores
Stores in your city, such as pawn shops and used music stores, may give you a nominal fee for your old CDs and put them up for sale. Visit a few stores to determine which gives the best price; some stores offer prices based on the condition of the CDs, so point out your collection's pristine condition if applicable.
Sell Online
Several websites are the ideal venues for selling old CDs to prospective buyers. Individually list the CDs for sale for a reasonable price based on condition and relevance on your city's local classifieds website and negotiate with those who make you an offer. Beyond selling locally, other websites to consider include global auction websites and sites that allow you to sell used CDs, DVDs and books for a fixed price.
Donate Your Collection
Contact charities in your city to see if your CDs might be something they want. Some charities might accept them to sell at a fundraising sale while others, such as an after-school program for kids, might use them to play at dances and other events. Some online organizations accept CDs and mail you a shipping label to avoid you having to incur any cost.
Recycle the Discs
Given that they're plastic, it's possible to recycle your CDs rather than toss them in the trash, provided your city offers recycling services. Contact your city's recycling department to determine if it's possible to put CDs in your roadside recycling bin. Otherwise, visit an electronics recycling center to drop off your collection. Some electronics retailers also have bins for recycling electronics in their stores.