These days it's easy to store mass amounts of digital media in PDAs and cell phones. Verizon makes it even easier to find and download music, pictures and video to their phones with its online media store. All Verizon phones, as long as they can access the Internet, can connect to the online media store and access thousands of downloadable pieces of material. So if you are looking for a new banner or wallpaper for your main menu or would like to download photos of your favorite celebrity, all you need is your Verizon phone and a few minutes to search the catalog of options.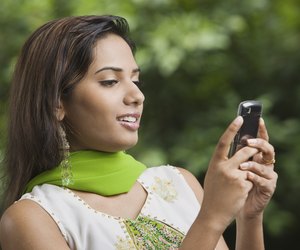 credit: Comstock Images/Comstock/Getty Images
Step
Access the main menu from your Verizon cell phone and click on "Applications."
Step
Click on "V Cast" and wait for it to load the main menu of the V Cast with Rhapsody program. Some older Verizon phones may not have V Cast installed. If this is the case, open the "Get It Now" application and use it to download pictures and wallpaper.
Step
Select "Entertainment and Apps" from the V Cast main menu and click "Wallpapers." You will be directed to a menu screen featuring thousands of downloadable photos and wallpapers.
Step
Scroll through the list of options until you find a picture that interests you. You can also search by category (located in the sidebar of the menu) or type a specific term in the "Search" box in the upper right-hand side of the screen.
Step
Click "Download" to download your selection straight onto your phone. After it's finished, it will be added to your media library. You can also download photos from the internet and transfer them to your phone from your computer by visiting http://www.vzam.net/vcastmusic/ and clicking the "Download Now" tab in the middle of the screen. Once the program is installed you can drag files from your computer's media library directly to your phone.