Unlike emails, text messages are saved in the internal memory of your phone instead of a central server. Most Verizon phones don't have a way to save them to the memory card instead of the phone's internal memory. If you want to download them to your computer and save them beyond the life of your phone, you need to send a text to your email address and do some copy-and-pasting. It's a tedious process, but it'll work on all Verizon phones and email services.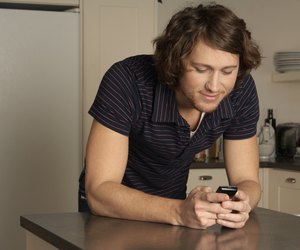 Step
Go to the text messaging inbox on your cell phone. Open the message that you want to download to your computer.
Step
Choose the "Forward" option and enter your email address in the "To" line. Hit "Send."
Step
Check your email inbox and click on the text you sent yourself. If it's a text-based message that you sent and you would like to save it as a file, skip to Step 4. If you sent a picture or video message, it will arrive in your inbox as an attachment. Right-click on the attachment and select "Save As." Choose a file name and location and hit "Save." Your picture or video message is now downloaded to your computer.
Step
Open the default word processor program on your computer. Open a new simple text document.
Step
Triple-click the body of the email that you texted to yourself, which will select the entire text. Right-click on the text and select "Copy."
Step
Return to your word processor document. Right-click in the main window and click "Paste" to make your text message appear. Click "File" at the top of the window and select "Save." Choose a file name, location and format then click "Save." Your text message is now downloaded to your computer.