One way to play YouTube videos in Windows Media Player is to use a YouTube downloader that can capture the video, then convert it to a compatible video format, such as WMV, which stands for Windows Media Video.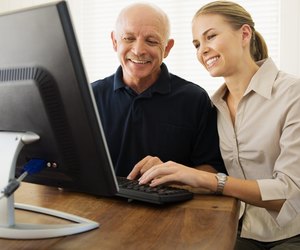 credit: Jupiterimages/Pixland/Getty Images
Step
Download a capture program such as YouTube Downloader or YouTube Grabber.
Step
Click on "Download Now" to get the installation file. Open the installation file for your capture program. Click on the "Next" button through each screen until the program installs.
Step
Copy a YouTube address for a video that you want. Highlight the address at the top of your browser, right-click there, and select "Copy."
Step
Open your YouTube program and right-click on the box where it says to add YouTube addresses. Select "Paste." Your address will appear there. Click "OK."
Step
Click the circle that reads 'Convert video from file." Click the "Convert To" dropdown menu and select "WMV." Click "OK."
Step
Open your Windows Media Player program. Click on "Library." Double-click on the converted WMV file you should now see there to play it.