The iPhone has a passcode locking feature that protects your information from being accessed directly from the phone, which also encrypts email messages stored in the mail application. The device also has an encryption tool located in the iTunes program on your computer that encrypts the device's backup information including contacts, calendars, bookmarks and other personal information. Once your information is encrypted, it can only be unencrypted on the computer used to synchronize information to and from the iPhone, according to the official Apple site.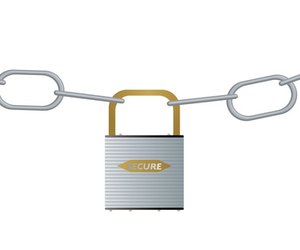 Step
Download iTunes from the Apple site (see Resources for link), and install it onto your computer.
Step
Run iTunes, and plug the iPhone's dock-connector cable into the bottom of the iPhone. Insert the remaining end into your computer's high-powered USB port.
Step
Click the iPhone's name located in the "Devices" section of iTunes, and click the "Summary" tab in the iPhone preferences window.
Step
Click the empty box next to "Encrypt iPhone backups" and click the "Apply" button to save the changes.
Step
Click the "Eject" button next to the iPhone's name in the "Devices" section, and push the "Home" button.
Step
Tap the "Settings" icon on the screen, and tap the "General" tab. Touch the "Passcode Lock" tab, and tap "Turn Passcode On."
Step
Create a four-digit passcode for your iPhone, and re-enter the passcode to enable the passcode lock.