Managing all of the information on smartphones like the iPhone can be a little difficult. With the iPhone serving as your MP3 player, video recorder and personal organizer with incoming texts and emails, it can be easy to get a little lost. Luckily, one feature on your iPhone you don't have to worry about ever becoming too complicated is the call history. Finding recent outgoing and incoming calls is a relatively easy process that only takes a few seconds. Here's how to find the most recent calls on your iPhone.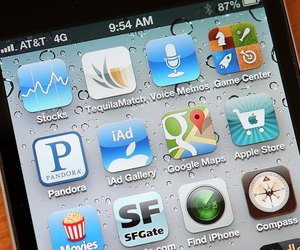 credit: Justin Sullivan/Getty Images News/Getty Images
How to Find Recent Calls on an iPhone
Step
Access the main menu on your iPhone and select the "Phone" icon from the list of options. You will be directed to the main call menu of the iPhone.
Step
Locate the button bar at the bottom of the phone screen. This will be a bar with a list of icons that correspond to a specific action that relates to the phone screen on your iPhone.
Step
Click the "Recents" button on the bar to bring up a screen detailing your recent incoming/outgoing calls. There will also be a number above the "Recents" bar listing how many calls you have in the system in total.
Step
Locate the desired number in your recent call log. You can click "Missed" at the top of the screen to filter the list by missed calls. You can add numbers to your phone book by highlighting the call and clicking the blue arrow next to the number. You can erase the entire call history by pressing the "Clear" button at the top right side of the screen.