These days many people own high-tech smart phones such as the BlackBerry. Since these phones are akin to mini-computers, the running system, program files and menu applications need to be maintained. One of the ways to maintain your BlackBerry and make sure it runs smoothly with its service provider is to perform a "flash" on the device. This will ensure that all the latest software is installed and all bugs are removed.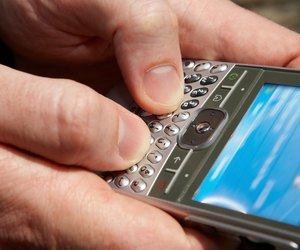 credit: Jupiterimages/Photos.com/Getty Images
Step
Plug your BlackBerry into your computer via the USB port and open the BlackBerry Desktop Manager program. If you do not have BlackBerry Desktop Manager installed, you need to insert the program disc that came with your BlackBerry when you purchased it. Follow the prompts to install it.
Step
Click on the "Device Manager" tab in program window and find which com port on your computer your BlackBerry is installed on. It will be listed as "com" followed by a number (com-3, com-4, etc.). Highlight the com port with the highest number after it.
Step
Go to your "BlackBerry" folder in the Desktop Manager and open a file called "QPST." Select "QPST Configuration" from the drop-down menu and click on it. This is the flashing software that your Blackberry uses.
Step
Wait for the QPST window to open on your desktop and click on the "Ports" tab at the top of the window. Then click "Add New Port" from the list of options.
Step
Choose "Com 4" from the list of options to add the port. Under the "Phone" tab on the QPST screen you will see that your Blackberry device is now detected.
Step
Click on the "Start Clients" tab at the top of the screen and then select "Service Programming" from the list of options in the drop-down menu. Click "OK" when prompted to confirm.
Step
Scroll through the list of file options in the new window until you come to a file that ends in ".bb." This represents your BlackBerry phone. Highlight and select it. Click "OK" when prompted to confirm.
Step
Click on the "Roam" tab at the top of the QPST screen, then click the "Browse" tab. Select your current BlackBerry service provider from the list of options and then click the "Write To Phone" tab at the bottom of the window. Your BlackBerry will now be flashed.