Your Canon camera has a dedicated formatting menu designed to help you clear the contents of the memory card in the device. Formatting the memory card in your Canon DSLR camera removes all images and videos from the device, so back up anything you want to save before proceeding.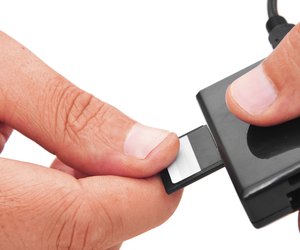 credit: nito100/iStock/Getty Images
Step
Turn on the "Power" switch and wait for the camera to power up.
Step
Press the "Menu" button to display the camera's menu on its LCD screen.
Step
Use the arrow buttons to scroll through the icons at the top of the screen until you reach the first Settings icon. Settings icons are identified by a picture of a wrench.
Step
Press the "Down Arrow" button to highlight "Format" or "Format Card" on the first Settings menu. Which of these choices is available will vary depending on the Canon model you're using.
Step
Press the "Set" button to open the card formatting menu.
Step
Select "OK" and press "Set" to confirm you want to format the memory card.