Cell phone providers offer upgrades before contracts expire. This is a chance for you to get a new phone early, as well let your current provider lock you into a new contract for another year or two. Your new contract will start right away when you get the upgrade. With AT&T, customers are able to upgrade their phones after being on an active contract for 18 months. It's time to get that smart phone or multimedia phone you've been wanting.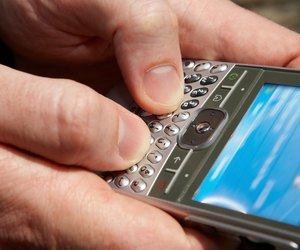 credit: Jupiterimages/Photos.com/Getty Images
Step
Go to your local AT&T provider store. Bring your current phone with you.
Step
Speak to a customer service representative. Ask the representative if you are eligible for a cell phone upgrade. AT&T offers "Loyalty Rewards" with upgrades; how much you spend on your plan per month and how long you been on the current plan determines the discount level you receive. Understand that additional discounts do not apply to the purchase of an iPhone.
Step
Look for a new phone. You will be renewing your contract so you will not have to pay the full price; the price with contract should be on a tag displayed with the phone in the store. Often, there are also mail-in rebates that are available with the phone when you open a new contract. The representative will assist you in choosing the right phone for your needs.
Step
Inform the representative of which phone you want. The representative will go through the purchasing process. The purchasing process will include setting you up with the best service plan for you, activating your new phone and transferring contacts from your current phone to the new one.