In order to add the extra emoji font symbols to your LG Optimus or any other Android device, you must install a messaging app that can read such a font and a font pack with the emoji characters built into it. You can receive texts with emoji characters in them but not be able to see the emoji icons due to the font pack and messaging app installed on your LG Optimus. If you are seeing empty boxes in text messages, it's possible that people are sending you emoji characters that cannot yet be displayed on your device.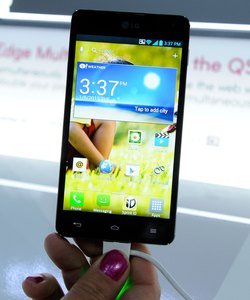 credit: David Becker/Getty Images News/Getty Images
Step
Unlock your LG Optimus and open the application launcher. Browse through the apps until you see the Google Play Store, and tap to open it.
Step
Touch the search icon, and type the name of the messaging app you want to install. Handcent, Go SMS Pro and Go Keyboard are messaging apps that also have emoji plugins (see Resources). Once you've typed in the name of the app, tap the search button. Select the app you want to install from the list of results, and then tap the "Install" button. Wait for the app to install. It will take several minutes over a typical 3G connection or a few seconds via Wi-Fi.
Step
Touch the search field, and add the word "emoji" to the name of the app you selected. Touch the search button, select the emoji plugin for your app and tap "Install."
Step
Launch the messaging app from the app launcher on your LG Optimus. Alternatively, find the app on the home screen and tap the icon to open it.
Step
Touch the tabs underneath the keyboard on your messaging app to cycle through different icons you can use to message. The emoji icons are located there and can be used in messages you send and receive.