Whenever you "sync" your iPhone with your computer, whether to update songs from iTunes or get the latest updates from your mobile carrier, your computer saves a copy of all the data on your iPhone at that point in time. As a result, if you want to retrieve SMS text messages from an old iPhone you no longer use, you need look no further than the computer you were using at the time. With the use of some basic software programs, you can get these text messages back and, in some cases, place them onto a new iPhone.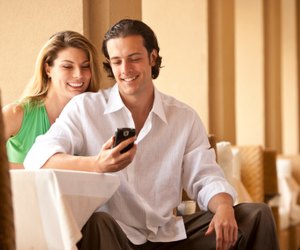 Step
Download and install "iPhone Backup Extractor" for Windows or Mac (see Resources).
Step
Launch the "iPhone Backup Extractor" and click the "Read Backups" button. Click the name of your old iPhone from the list, then the "Choose" button. Select "SMS" from the list of applications, click "Extract" and select a location on your hard drive for the data. Click the "Choose" button and wait a moment for your files to be extracted. Exit out of "iPhone Backup Extractor."
Step
Download and install "DiskAid" (see Resources) if you wish to copy your SMS messages to a new iPhone, keeping in mind that this iPhone must be "unlocked" or "jailbroken" in order for you do this (see Tips).
Step
Connect your new iPhone to your computer using its USB cable and launch "DiskAid." Move your mouse over the drop-down menu at the bottom left of the application window--it will say "Media Folder"--and scroll through the options until you reach "Root Folder." Click "User" from the side navigation menu, then "Library" from the one that appears to the right of it, then "SMS." Click the "Copy to Device" icon at the top of the application window and then navigate to the location to which you extracted data in Step 2. Click the name of your SMS file, then "Open" and then "Replace." Wait a few moments and disconnect your iPhone.
Step
Read the old SMS messages on your new iPhone. Tap your iPhone's "Messages" icon to scroll through them as you would the existing messages on it.