Selfies and candid pictures are a reality for iPhone owners. With such power comes temptation to take a picture you may wish you had not taken or one that you do not want anyone to see. How, then, can you hide these pictures from people borrowing your phone to look at the cute selfie you just took, only to discover another selfie that you'd rather keep private (let's not explore why)? The obvious solution is to install an app on your iPhone that requires a password to see pictures -- but then this is admitting some measure of guilt, in addition to the extra work of having to manually moving pictures into the app. And what if you forget to move the picture and delete it from the open album? The answer: just crop the image and leave it in plain sight.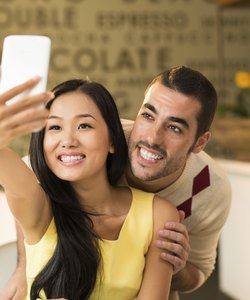 credit: DragonImages/iStock/Getty Images
Step
Tap "Photos" from your iPhone home screen and then select the picture you want to hide. Tap "Edit" and then tap the "Crop" icon.
Step
Drag one of the corners close to the opposite corner in order to make the cropped area as small as possible. Tap "Crop" when you are finished.
Step
Tap "Save" to save this modified image to the camera roll. This image will replace the image you wanted to hide -- however your original image is not lost.
Step
Edit your cropped image again to see the original version by opening the image and entering the crop mode again. This time continually drag the corners and edges out to bring your original image back into view.