Hooking up a sound bar audio system to properly work in conjunction with your high-definition television (HDTV) and Blu-ray player takes less than five minutes. To get the best sound quality from your system, purchase an HDMI cable. If the sound bar system supports a Toslink optical audio cable, purchase one of those as well. If it does not, use a set of RCA cables.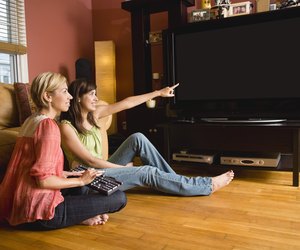 Step
Place the sound bar in a suitable location. Setting the bar speaker either below the HDTV or above it is preferred for best sound quality. If mounting the speaker, tightly fasten all mounting screws.
Step
Plug the Toslink optical audio cable into the small port labeled "Optical" on the sound bar. Connect the cable from the sound bar to the HDTV, firmly snapping the cable into the "Optical" port. You can also connect the RCA cables from the back of the sound bar into the two RCA ports on the back of the television.
Step
Plug the power cable for the sound bar into an electrical outlet. Press the "Power" button on the sound bar to turn it on.
Step
Turn on the television and go to the sound settings menu. Set the audio output to "Dolby" for the best quality. In some cases, you can set individual outputs for each device you have connected. If the Blu-ray player is set to the television speakers, change the setting to "Dolby" or "External Speakers."