HDTV stands for "high definition television," and the beauty of HDTV is that it offers picture and sound that is of better quality than standard TV and cable. If you have recently purchased a new HDTV, hooking it up to your cable with a standard coaxial cable and receiver box will not give you the quality picture that you saw on the showroom floor. Many cable service providers now offer their basic cable channels in HD, but you will need specific equipment and cables to get the HDTV picture.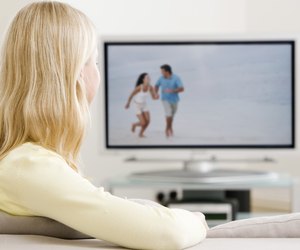 credit: BananaStock/BananaStock/Getty Images
Step
Contact your cable provider, or stop by their office, and request an HDTV receiver (cable box). If you pick the box up at the office you will have to take in your standard cable box as an exchange.
Step
Take the coaxial cable line that is coming in from outside, and connect it to the "Cable In" port on your HDTV receiver.
Step
Connect the HDTV cable to the back of the HDTV receiver. The HDTV cable will have five ends to it: blue, green, red, yellow and white. Connect the ends to the matching colors on the back of the cable box where it says "Cable Out."
Step
Connect the other end of the HDTV cable to the back of your television, which should say "Cable In."
Step
Plug in your cable box, but do not turn it on yet. It must run through its boot sequence first. When you see the time appear on the cable box, it is ready to be turned on.