Satellite television offers a wide range of channels, music and other services for discriminating TV watchers. DirecTV subscribers use a satellite dish to receive TV content and a receiver to decode the signal and send it to your television. DirecTV receivers have audio ports that allow you to set up speakers to improve your audio quality. Many satellite channels transmit digital-quality sound, so having a good speaker system can enhance your TV viewing experience. Using outdoor-rated speakers can move your TV viewing to your deck or patio with ease.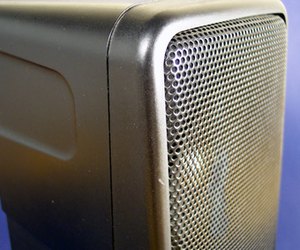 Step
Install your outdoor speakers in their desired location. Run outdoor-rated speaker wire from the speakers to your DirecTV receiver location. The DirecTV receiver should be located indoors or in a weather-proof enclosure since it is not rated for outdoor locations.
Step
Place a stereo receiver near the DirecTV receiver. The DirecTV receiver does not amplify the sound signal coming from the dish, so you need a stereo receiver to provide power to your speakers. A stereo receiver will also allow connection to other audio sources such as DVD players or satellite radio.
Step
Using red/white audio cables, connect the "audio out" ports on the DirecTV receiver to the "audio in" ports on the stereo receiver. Most stereo receivers have more than one audio port, so you will need to select that audio port using the stereo remote before listening to the TV. If your DirecTV and stereo receivers have optical audio ports, you can use an optical audio cable to connect them; these cables are available at electronics stores.
Step
Connect the speaker wires from the outdoor speakers to the speaker connections on the stereo receiver. If you are using speaker wire without plug connections, strip one-half inch of insulation from both ends and use solder to "tin" the wire ends for a better connection.
Step
Turn on the DirecTV system receiver, stereo receiver and TV and verify you have sound to your outdoor speakers. If you do not, check the speaker wire connections on the speakers and the audio receiver. Connections need to be red/red or black/black between the receiver and left and right speakers for sound to be heard correctly.