A Roku player is a device you can use as an alternative to a cable or satellite subscription. The device is a streaming video player that connects directly to a TV to display content from video streaming websites. The Roku player does not require a computer to connect to the Internet. The device can connect to both wireless and wired networks, depending on the model. Your TV must have an applicable port to connect to the Roku player.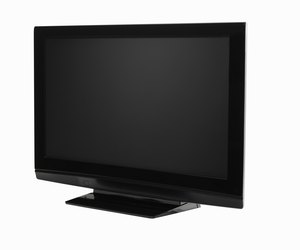 Step
Connect the Roku player to your TV with the appropriate connection cable or cables. For example, if your TV has an HDMI port, insert one end of an HDMI cable into the HDMI port on the back of the player and inset the other end into the HDMI port on the TV.
Step
Insert one end of an Ethernet cable into the Ethernet port at the back of the player and the other end into an open Ethernet port on the router if you are using a wired connection. If you are connecting to your network wirelessly, you need the password to the wireless network if it is security-enabled.
Step
Turn on the Roku player and your TV. Use the Roku remote to navigate the onscreen menus. Use the arrow keys to navigate and the "OK" button to select an item. Press "OK" on the Roku remote control when the "Welcome" screen appears on the TV.
Step
Select the "Wireless" option if you want to connect to a wireless network or select the "Wired" option to connect to a wired network.
Step
Follow the steps to connect to the network. For example, if you are connecting to a wireless network, select the wireless network and enter the network's password if applicable. The Roku automatically reboots.
Step
Select your time zone, then select "Done." A code displays on the following screen.
Step
Launch a Web browser on your computer, then go to the Roku "Link Code Submission" page. Enter the code from the TV screen into the box on the Web page and click "Submit."
Step
Follow the directions to create a new Roku account. For example, enter your contact information and set a payment method. Click "Finish" to complete the setup and use your activated Roku player.