If you've taken pictures that are too good to keep to yourself then an easy way to share them with family and friends is to import them to Facebook. Sharing pictures has always been a core part of the Facebook experience and importing them to your Facebook profile is straightforward with the website's integrated photo upload tool. To import pictures to Facebook, log in to your account and upload pictures to a new or existing photo album.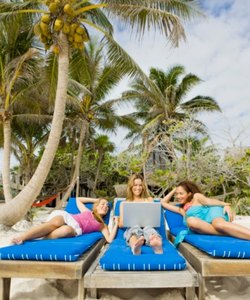 Step
Log in to your Facebook home page.
Step
Click "Photo" in the top menu and select "Create an Album."
Step
Click "Select Photos." This allows you to select pictures from the folders on your computer. Click the image file that you want to import in the browser. If you want to import more than one picture, hold down the "Ctrl" button on the computer keyboard and click each image file.
Step
Click the "Open" button. Enter the title for the photo album in the dialog box. Choose your preferred privacy settings and photo quality settings by clicking the relevant checkboxes beside these options.
Step
Wait for the pictures to upload. Facebook displays an upload progress bar while this takes place.
Step
Click the "Create an Album" button. This displays the album and the imported pictures. Click each picture to give them titles, descriptions and to "tag" friends.