The Apple iPhone is a powerful smartphone. Not only is it a mobile phone, it also is an MP3 music player, and can access the Internet or run any of the hundreds of thousands of applications -- or apps -- that can be downloaded from the Apple iTunes store. Various iPhone models differ in the amount of available memory they have. Though iPhones cannot have their factory-installed memory increased, reducing the number of items in your iTunes library can increase the available memory in your iPhone.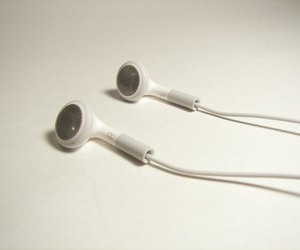 Step
Connect your iPhone to your computer using the USB cable that came with the device. Make sure the computer you connect to has your iTunes library installed on it.
Step
Select your iPhone from the list on the left hand side of the iTunes window. If you've named your iPhone, the name will be listed in the column. Clicking on your iPhone's name will bring up the iPhone management window.
Step
Click on the "Music" tab. Doing so will display your playlists that are stored in your iTunes library. Remove unwanted playlists and songs from your iPhone by deselecting them in this window.
Step
Click on the "Apps" tab. All the apps that are synced to your iPhone will have a check in the box next to the app name. Uncheck the boxes in front of each app that you no longer need or do not use.
Step
Click on the "Podcasts" tab. Deselect all the podcasts that you do not listen to or no longer want on your iPhone.
Step
Click the "Sync" button located in the bottom right hand corner of the iPhone Manager window. This will sync your iPhone with your iTunes library and will remove any songs, apps or podcasts that you deselected. Once completed, you will have additional memory to use.
Step
Close background apps. With iPhones using IOS 4.0 and higher, you can have multiple apps running at the same time. When you have several apps running, your runtime memory can quickly be consumed, making your iPhone run slowly. Closing some of your running apps will increase runtime memory and improve the performance of your iPhone.