While Windows attempts to have drivers for nearly every device out there, it's not always reliable. Installing the device drivers for your Android device manually allows you to choose the software that will enable your tablet or phone to communicate with your computer, instead of letting Microsoft make the choice for you. If you want to use debugging software on your Android device to test apps, or if you are interested in installing custom software on your device, you will need to have the correct drivers installed.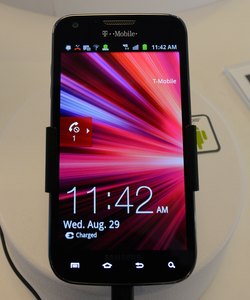 credit: Kevork Djansezian/Getty Images News/Getty Images
Step
Download the driver for your device (see link in Resources). Google -- the creator of the Android operating system -- maintains a list of links that point to the drivers from different equipment manufacturers. Select the link for your device's manufacturer and download the driver to your computer.
Step
Connect your Android device to your computer via USB. You will not be able to install drivers to your Android device unless it is currently connected to your computer.
Step
Press the "Windows" key, type "Device Manager" and choose the Device Manager from the list of search results. You can also swipe in from the right side of the screen to open the search feature on touch-enabled computers.
Step
Find your Android phone in the list of devices. You may need to click or tap on a category to expand it and view the individual devices within the category. If Windows does not have any suitable drivers for your Android device the listing in the Device Manager will have a question mark icon next to it.
Step
Select your Android device and choose "Update Driver." If you're using a mouse you can right-click on the device listing, otherwise tap the button at the top of the Device Manager window.
Step
Choose "Browse My Computer for Driver Software," then "Next" and browse to the location where you downloaded the driver. Select it and choose "Next." The driver will install and the listing in the Device Manager will change to remove the question mark.