One of the applications that comes standard with your iPhone is the "Messages" app. This app includes the capability to send and receive text and media messages between your iPhone and other phones, devices and computers. Unless you manually delete them, the messages you exchange are stored and can be accessed. The messages are grouped as conversations, labeled by the name or phone number of the people who have participated in the conversation.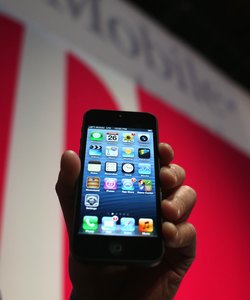 credit: John Moore/Getty Images News/Getty Images
Step
Tap the icon for the "Messages" application on your iPhone's Home screen.
Step
Tap the name or phone number of the person whose message history you want to view.
Step
Swipe your finger down the screen from top to bottom to scroll through previous messages.
Step
Tap the "Load Earlier Messages" button to see another, earlier batch of messages. Repeat this process to see all of the messages stored on your iPhone.