Taking black-and-white photos with a Canon Rebel XS is no different than shooting in color. The only adjustment you need to make is to turn on the camera's "Monochrome" setting, which is located in the "Picture Styles" menu. Your shots are then recorded in black and white, and are saved as JPEGs, so you don't need to remove any color from them with editing software when you view them on your computer. However, this also means the photos cannot be reverted to color, because the camera didn't capture any when the picture was taken. You will need to turn off the "Monochrome" setting and reshoot the image if you want to retain a color JPEG of it.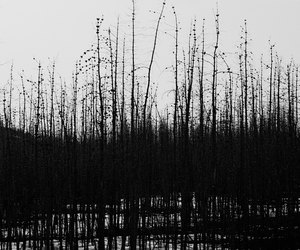 Step
Turn the Canon Rebel XS on; the power switch is located on the top-right side of the camera.
Step
Press the "Picture Style" selection button. The button is one of four cross keys that are located to the right of the LCD monitor on the back of the camera. The keys are positioned in a circle that surrounds the "Setting" button, which is marked with the letters "SET." The "Picture Style" button is the bottom key that has a picture of an upside-down triangle on it. The "Picture Style" menu will appear in the LCD monitor.
Step
Click the "Picture Style" button to navigate through the menu to select the "Monochrome" icon. The icon is a picture of six small squares in a circle, with the letter "M" on the right side.
Step
Press the "Setting" (SET) button to lock in the selection. The symbol "" will now be visible in the camera's viewfinder.
Step
Shoot pictures with the camera as you normally would.