With the introduction of version 4.0 of the iPhone operating system (iOS), Apple introduced a new feature for managing applications named folders. Just like file folders in a filing cabinet, folders in iOS 4 allow you to store clusters of similar applications within a common group. The method by which you create and manipulate the contents of an iOS folder may require a slight learning curve, however the process is little more than a drag-and-drop of one app on top of another.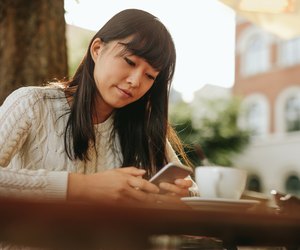 credit: Jacob Ammentorp Lund/iStock/Getty Images
Step
Update your iPhone to iOS 4 or greater. Connect it to iTunes using the USB cable, and select your iPhone in the left column under "Devices." Look in the center of the iTunes screen for the Software Version. If it is not up-to-date, you must select the "Update" button and proceed to update the operating system on your iPhone to the latest available version.
Step
Press and hold your finger on any app on your iPhone touch screen. You will see the apps on your device all start to shimmer and a small circle with an "x" will appear in the upper left corner of the apps you have installed on the device.
Step
Press and hold your finger over any app on your screen. While holding your finger on the screen, drag the app icon over the icon of another app. You will see that the two apps are now enclosed within a folder.
Step
Rename the folder from the generic name that the iPhone provided. You will see a line where you can edit the name of the folder. Tapping on any folder while you are in editing mode will open and show the contents, including the name of the folder. Touching anywhere on the line with the name will allow you to edit it with the virtual keyboard.
Step
Remove an item from a folder by simply touching and dragging it out of the folder while you are in editing mode, when the app icons are all wiggling.
Step
Press the home button on the bottom of your phone to exit out of the home screen edit mode. Once the app icons stop wiggling, you will know that you are out of edit mode.