Many Vizio television sets come with a media widget called the VIA Media Application that allows you to transfer image and music files from your computer and view or listen to them on your Vizio TV set. To use the Vizio Media widget, transfer the files onto a correctly-formatted USB flash drive and plug the drive into a free USB port on the TV set. The TV set automatically detects the drive and launches the Media application so that you can browse your media files.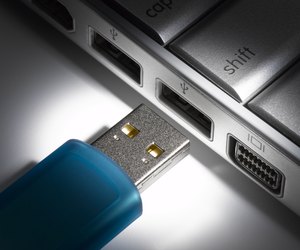 Step
Plug the USB flash drive into a spare USB port on your computer. Click the Windows orb on your desktop task bar. Click "Computer" from the Start menu.
Step
Find the USB flash drive's icon in the Computer window. Right-click the icon and click "Properties" from the context menu to open the Properties dialog box on the default General tab. Find the File System section. If this is labeled "FAT" or "FAT32," you can use the drive for the Vizio Media application. If not, click "OK" to close the dialog box. Right-click the drive icon again, but this time click "Format" from the context menu. Click "exFAT," "FAT" or "FAT32" from the File System drop-down list. Click "Start" and wait for computer to correctly format the drive.
Step
Open the computer folders that contain the image and audio files that you want to view on the Vizio TV set. The application can read JPG, BMP, GIF or TGA image files and MP3 and WMA audio files. Highlight the files and drag them to the open USB drive window to copy them to the drive. Eject the drive from your computer when the copy process is complete.
Step
Switch on the Vizio TV set. Plug the USB drive into a USB port on the Vizio TV set. The Vizio automatically detects the attached drive. Use the arrow and "Enter" keys on the remote control handset to select "Browse" in the on-screen pop-up window. Select "Media" followed by "OK" and "USB."
Step
Select the "Photo" option to view the image files on your Vizio TV set, or select the "Music" option to listen to audio files. Scroll through and select items with the arrow and "Enter" keys on the Vizio remote control.