If you have an iPhone or an iPod Touch, you can manage your email contacts directly in iTunes. This feature lets you sync contacts from Outlook, Google, Yahoo or Windows with your device and gives you access to your address book wherever you go. These options become available upon syncing the device with your computer in iTunes.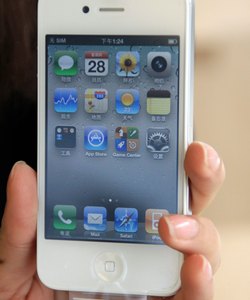 Step
Connect your iPhone or iPod Touch to your computer using the USB cable supplied with the device. Make sure the device is powered on so it will be recognized by your computer.
Step
Click on your device name in iTunes, under the Devices heading. This will give you access to the synchronization settings for your iPhone or iPod Touch.
Step
Select "Info" from the menu bar on the right side of the iTunes window. If you don't see this menu option, make sure your device name is highlighted in the menu on the left pane of your iTunes screen.
Step
Select whether you want to synchronize your contacts between iTunes and your device. To sync contacts, check the box beside "Sync Contacts With." Use the drop-down menu to select which email program you wish to use to sync your contacts. Options include Windows, Google, Yahoo and Outlook.
Step
Click the "Sync" button in the lower right section of the iTunes window to save your settings and begin syncing with your device. Leave the device connected to your computer until the synchronization is complete.