Apple's iPhone smartphone, like most electronic devices, is constantly being improved through hardware and firmware upgrades. As such, it is common for iPhone users to upgrade to a newer model, forcing them to migrate everything from their old iPhone to their new iPhone. Because the iPhone is integrated with the iTunes application, you can transfer purchases, settings, music and everything else from one iPhone to another in a few simple steps.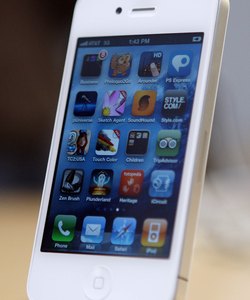 Step
Connect the old iPhone to your computer via the USB connection cable that came with the device and double-click the iTunes application icon to launch the application.
Step
Right-click the iPhone, listed beneath the "Devices" heading in the iTunes application window, and select the "Back Up" option from the context menu that appears. iTunes will now create a backup of your old iPhone.
Step
Click the "Eject" button to the right of the iPhone device and disconnect the device from the computer. Connect the new iPhone to the computer using the USB connection cable that came with the device.
Step
Click the "Restore From Backup" option when prompted after the iTunes application detects your new iPhone. Allow several minutes for iTunes to migrate all of the information from the backup you made onto the new iPhone. Once the iPhone restarts, the phone will be activated, and everything that was on your old iPhone will have been transferred to the new iPhone.