The easiest way to watch YouTube videos on a TV is to connect an Internet-ready computer to it. The latest TVs come with multiple inputs meaning that many external devices such as computer consoles, DVD players and computers can all be connected at the same time.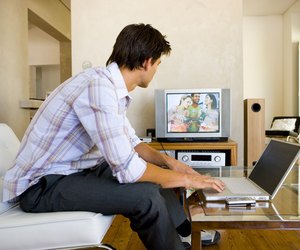 Step
Unplug both computer and TV.
Step
Look at the back of your TV and your computer and determine which types of video connections they have. In order to connect your computer to a TV, both the computer and the TV must have the same connection. For example, if both TV and computer have an S-Video socket, you can use an S-Video connection. For diagrams of the connections available see the "Resources" section below and for a brief overview of connections see the "Tips" section.
Step
Get an appropriate cable, such as an S-Video cable, from your local audio, video or electronics store.
Step
Insert the corresponding cable into the computer and the TV.
Step
Switch on the computer and TV.
Step
Open your computer's control panel, click on "Display" and open "Display Properties." Click "Settings" and then "Advanced."
Step
Click the "TV" tab and then click on the "Enable output to TV" or "Output Device: TV" and click "OK." The computer screen should go blank and the output will appear on the TV. You can now open the Internet browser, go to YouTube.com and watch the videos through the TV.