While the universal remote sounds like a great way to streamline your entertainment system or simply replace a broken remote control, getting it properly programmed can be a headache, especially if you've lost the manual. Within a few attempts, you should be able to program your General Electric universal remote.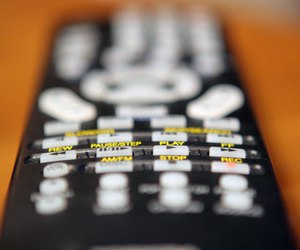 Step
Turn on your television or other electronic component that you want to use the remote to control.
Step
Hold down the "Code Search" or "Setup" button until the LED indicator light turns on.
Step
Hit the button for the component that you are programming (TV, DVD, VCR, etc.). The LED light should flicker and stay on.
Step
Enter the three-digit or four-digit code that corresponds to the TV or device that you're operating (see Resources for code lists). The LED light should go off if the code is valid, but will flash if it is not. Try additional codes listed for your make/model if the code is invalid.
Step
Try turning the television or other programmed component off to ensure that the remote works properly, once the light has gone off. If the remote does not work, try the next code listed for your product. Repeat as necessary until remote works with your device.
Step
Search for the code if your remote still does not operate the device after exhausting pre-listed codes or you can't find codes. Repeat Steps 1 through 3 from above. Press and release the "Power" until the television or other component turns off while waiting at least two seconds between each press. You may need to hit "Power" up to 300 times before the device shuts off, but eventually it should shut off.
Step
Press "Enter" or "Save" once the remote has effectively turned the power off. The LED light will shut off and the remote will now operate the device.