With so many channels available on TV today, it's impossible to memorize each one. Instead, use your television's memory to program TV channels. Once there are channels available in your TV memory, you can use your remote control to scroll through them as you look for something to watch. In your television menu, you can look for channels available, save them in your TV memory and then customize the ones you want available to you.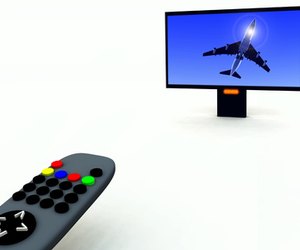 Scan Channels
Step
Press "Function" on your television remote control until the TV displays "PROG." If your TV remote doesn't have a function button, press "Menu" and look for the "Setup" menu. Select "Auto Scan" or "Scan."
Step
Select the source of the channels you want to scan for. If you're scanning for channels available over the air, select "Antenna." If you're scanning for channels available through cable, select "Cable." If you have both cable and over-the-air channels you want to pick up, select "All."
Step
Scroll down to "Scan Channels" and press "Volume Up" or "Select" to begin programming.
Step
Wait for the TV to cycle through all the available channels. This may take a few minutes to complete. Your "Menu" screen will display again once the television scans through all your channels.
Add and Erase Channels
Step
Check which channels are in your television's memory by pressing the "Channel Up" or "Channel Down" button.
Step
Press "Function" if you come to an individual channel you do not want in your TV memory or if you want a channel in your TV memory that didn't display during the scan. Continue pressing "Function" until the "Add/Erase" option displays on the screen. If your TV doesn't have a "Function" button, click on "Menu" then "Setup."
Step
Use the arrow keys to select "Add" or "Erase" to either include the channel in your TV memory or delete it. If you want to add or erase channels through your TV's "Setup" menu, highlight "Add/Erase" and follow the on-screen instructions to either add the channel or erase it.