The Samsung WEP200 headset is a compact device, capable of connecting to most Bluetooth enabled phones. As with most Bluetooth devices, it will need to be paired with your phone before it is ready for first use. In order to activate pairing mode, you'll need to start with a fully charged battery. Place your Samsung headset in the charging case and connect it to a power source for approximately two hours. The headset's indicator light will change from red to blue when charging has completed.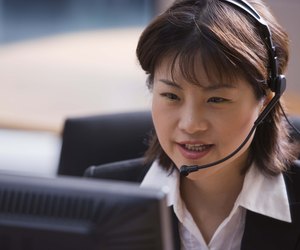 Step
Open the cover of the charging case and remove your headset. Keep the device powered off--the indicator lights will remain unlit when the headset is off. If the headset is on, press and hold the "Multi-Function" button (the large button on the front of the device) for approximately four seconds. Release the button when the indicator lights stop flashing.
Step
Press and hold the "Multi-Function" button for approximately eight seconds.
Step
Release the "Multi-Function" button when the indicator light stays solidly lit in blue. The headset is now in pairing mode.