If you're thinking of trying to replace the 3.5 mm plug on a cheap pair of headphones, it's probably not worth the hassle. But if you have invested in an expensive pair that is suddenly not working, you can try replacing the plug to see if that fixes the problem. Often the headphone wires will loosen from the plug over time, so soldering the wires to a new headphone plug may get your headphones back in working order. Be sure you know how to handle a soldering iron before attempting this process.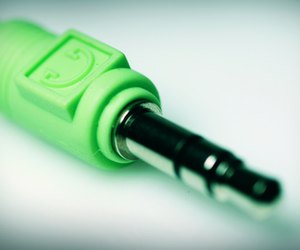 Replacing a 3.5 mm Stero Plug
Step
Cut off the existing 3.5 mm plug where the base meets the headphone wires.
Step
Strip the exterior of the headphone wires until about 1/2 inch of bare wire is accessible. You should see a green wire, a red wire, and two copper wires.
Step
Keep the green and red wires apart. Twist the two copper wires together to make one copper wire. Light a match. Hold it to the end of each wire for one to two seconds.
Step
Unscrew the metal portion of the new plug from the plastic case. Carefully thread the three wires through the base of the new plug so that your three wires are exposed at the other end of the plastic case.
Step
Place the metal portion of the plug into the vise to hold it while soldering or tape the metal portion of the plug to the table to hold it steady. Solder the wires to the terminals at the base of the metal portion of the new plug. Solder the copper wires to the large, outside terminal. Solder the green wire to the middle terminal. Solder the red wire to the third terminal. Allow the soldering to cool.
Step
Remove the metal portion of the plug from the vise. Screw the plug back together. Secure the base of the plug to the headphone wires with electrical tape, making sure that any exposed portion of wiring is completely covered by tape.