Just as every retail store has its own return policy, every seller on eBay can set individual return policies, but all sellers must issue refunds in cases of improperly described items. Whether you received a broken item from a scammer or want to take advantage of a generous return policy on a purchase you don't want anymore, request a return from your Purchase History on My eBay to start the process.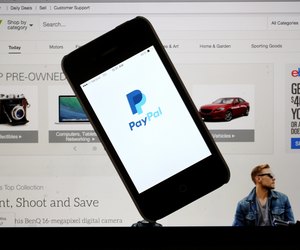 credit: Joe Raedle/Getty Images News/Getty Images
Check the Return Policy
Some sellers accept back items within a certain time frame, while others do not offer any returns beyond those enforced by eBay. To see the return policy for a particular item, open the item's page and switch to the "Shipping and Payments" tab. Even if a seller doesn't specifically offer returns, eBay requires all sellers to take back items that don't match the advertised condition, such as a previously used item listed as "New," or a counterfeit product.
Start a Return
Press "Purchase History" on the My eBay page to see your recent purchases. Click "More Actions" by the item you want to return, and select "Return This Item." Pick a reason for your return from the drop-down menu, write the details of your problem in the text box and press "Start a Return." The drop-down menu includes valid reasons for any item -- such as "It's counterfeit or fake" -- as well as other reasons like "I don't need it anymore," which not all sellers accept as a valid reason. If you don't see the "Return This Item" option, the item is outside the return window. Instead, send a message from the seller's user page to ask about a late return, at the seller's discretion.
Send a Return
If the item's seller uses eBay's automatic system, hassle-free returns, eBay provides you with a printable USPS shipping label as soon as your return request is processed. If the seller doesn't use this system, depending on his return policy, he may either provide you with a shipping label himself or ask you to pay for return shipping. Regardless of how you acquire shipping, you must pack and return the item within five days, in the exact condition you received it, including all parts and any free bonuses the seller included.
Ask for Help
If a seller never responds to your return request, or if you receive an unsatisfactory response, such as a seller refusing a return on a damaged item listed as "Like New," you can ask eBay to review the case. Open the item's "More Actions" menu on your Purchase History, choose "View Return Details" and press "Ask Us to Step In and Help." You can ask eBay for help only after waiting six days for a positive response from the seller. After requesting help, eBay might ask you to describe your problem and provide photos of the item to show its condition. Give as much detail as possible, because after reviewing the case, eBay issues a final verdict on whether or not to allow the return.