The iPhone 5 makes looking for a restaurant at the spur of the moment easy; the days of randomly driving around or asking for recommendations from a local convenience store are over. Using iOS 7, you can find places with an app, ask Siri or look up a nearby restaurant and view reviews using Safari.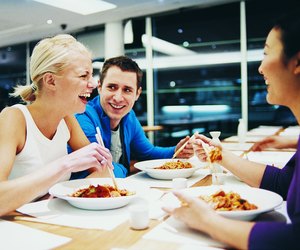 credit: Digital Vision./Photodisc/Getty Images
Location Services
Before you can take full advantage of the various features available on the iPhone to find nearby restaurants and shops, you should enable Location Services. This service enables GPS to use your current location and find points of interest near you. Enable Location Services by clicking the "Settings" app, tap "Privacy" and choose "Location Services." Set the "Location Services" toggle switch to the On position. All apps that support Location Services will be enabled by default. You can disable individual apps by setting the toggle switch for the app to the Off position.
Siri
Siri provides voice control services on your iPhone. When you ask Siri a question, it understands what you want and helps you find information that matches your request. Hold down the Home button for a couple of seconds to launch the voice-activated assistant. Ask Siri where to find the closest hamburger joint and you'll get a list of nearby restaurants that serve hamburgers along with the approximate distances from your current location. Select any of the options to get additional details about the restaurant including directions, customer reviews and an arial view of the establishment.
Maps
The Maps app gives you another option for searching for nearby restaurants. In most cases, Location Services shows only options close to you when you conduct a search. If you get results from another area, try adding the ZIP code or city after the search query. The search feature in Maps doesn't provide the same level of flexibility and intuitiveness that Siri provides. For example, searching for hamburgers might not provide you with a list of local shops. However, if you search for a specific restaurant name, then you can usually choose the closest option from the map to get directions.
Third-Party Apps
Third-party apps can provide specialized recommendations to search nearby restaurants. Foursquare, Zagat and Urbanspoon all provide an option to use GPS to locate restaurants near your current location. Select the "Nearby" tab on the Foursquare app and type "Restaurants" in the Search Nearby text field. Use the Zagat app to find recommended restaurants and filter results by cuisine, rating and other criteria. Urbanspoon allows you to select a maximum distance to find recommendations for restaurants based on how far you want to travel.