Current cell phones can play clips of favorite songs as personalized ring tones. You can select your favorite songs on your computer and convert them to an MP3 or WAV file to send to your mobile phone. These audio files are usually compressed to store on a mobile phone. If your phone has Web access, simply convert the files on-line and send a download URL as the text message. Free services such as Beam-It-Up-Scotty.com convert and upload files in a few steps.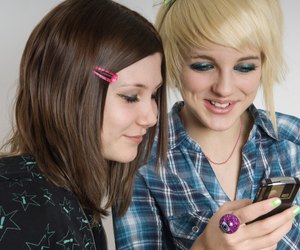 credit: Jupiterimages/Polka Dot/Getty Images
Step
Launch your browser application and type "beam-it-up-scotty.com" in the address bar
Step
Click "Choose File" button and select the desired audio clip.
Step
Click "Upload File" button.
Step
Select "Compress (MP3, 32kb/s)" and click "Get Download Link".
Step
Write down the URL that is displayed in the dialog box.
Step
Launch your email application and compose a new message to your cell phone.
For example, the text message email address for mobile number (999) 555-1234 is 9995551234@messagin.sprintpcs.com.
Step
Type the URL generated from Beam-It-Up-Scotty.com (in step 5) and click the "Send" button.
Step
Turn on your cell phone and click the link in the text message to download the song.