Apple's iPhone iOS includes the Reminders app, a scheduling utility and to-do app in which you create checklists and set alerts based on time or location. To set reminders, either open the app and create a list or talk to Siri, the iPhone's voice-activated assistant.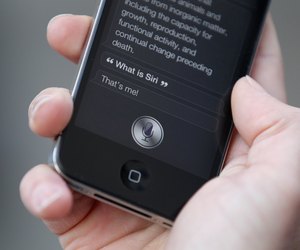 credit: Oli Scarff/Getty Images News/Getty Images
Start a To-Do List
To start using the Reminders app, open it on the Home screen, press "New List" and type in a list name. Use a descriptive grouping such as "Work" or "Errands" if you want to separate your reminders into multiple lists. Otherwise, make a catchall list named "Reminders." Pick a color for the list and tap "Done." Press an empty line in the list to create a new entry. After each entry, press "Return" to move to the next line or press "Done" to finish. To create another list, tap the active list's name to display the New List button.
Turn on Reminder Alerts
By default, the Reminders app acts only as a checklist. To receive a reminder about a particular item, tap it and press the "i" button. Switch on "Remind Me on a Day" to set an alarm for a specific day and time. Turn on "Remind Me at a Location" to use the iPhone's GPS to trigger an alert when you arrive at or leave a specified place. For example, you could set the reminder "Did you lock the door?" to show up every time you leave your home. After entering a location, drag the dot to expand or shrink the map area. For a reminder about leaving home, you would want an area small enough to trigger the alarm before you drive away.
Set Reminders With Siri
To talk to Siri, hold the "Home" button or the center button on the EarPods remote until your phone beeps. Request a reminder naturally, as you would talk to another person, and Siri interprets your message. For example, say "Remind me to buy snacks tomorrow afternoon" for Siri to create the reminder "Buy snacks" and set an alert for noon the next day. To set a location-based alert, use a phrase such as "when I get home." If you don't specify a time or location, Siri adds the item to the checklist in the Reminders app without an alert.
Try Alternative Reminder Apps
Other to-do list and reminder apps on the App Store offer additional features. With an app such as 2Do, you can sync lists to Dropbox to keep them updated on both your iPhone and an Android device or Mac computer simultaneously. If you want to manage your reminders on the Web, set up a Google calendar and add your Google account in the "Mail, Contacts, Calendars" page of the Settings app. The iOS Calendar app imports your Google calendar entries and displays reminders accordingly, bypassing the Reminders app entirely. For a completely different experience, try EpicWin, an app that turns your to-do list into a game that awards points and achievements for finishing your tasks.
Version Information
Information in this article applies to iOS 7. It may vary slightly or significantly with other versions. Location-based reminders require an iPhone 4 or newer model and won't work if you disable Location Services.