How to Set Up a Photo Studio. Creating a studio can be a simple or complex task depending on the desired results, but in either case a few simple rules apply. You need sufficient space, a lot of electrical outlets, the ability to shut out light when necessary etc.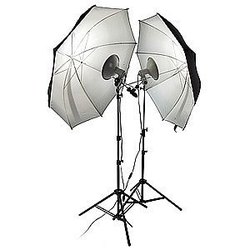 Choosing the Room
Step
Find a room that's 15 to 18 feet long to allow for at least 12 feet between the camera and the background, as well as room for lighting equipment.
Step
Select a room that's at least half as wide as it is long.
Step
Opt for a room with a simple shape for greatest versatility and a high ceiling to allow for soft, even lighting and high camera viewpoints.
Step
Paint the walls and ceiling with a washable, white, matte finish.
Step
Box in or take out fireplaces, alcoves and baseboards to streamline the shape of the room.
Step
Install numerous electrical outlets or a single heavy-duty outlet with a distribution box on a long cable. Choose the walls you'll use as backgrounds before installing electrical outlets.
Step
Install a ventilator or air conditioner to reduce the stifling effect of the lighting.
Arranging the Studio
Step
Decide which walls will serve as backdrops and set up your camera opposite.
Step
Construct or buy reflector boards (6-foot-tall boards with a white surface on one side) to use for reflecting light into shadow areas.
Step
Collect a range of props and tools. Build a cupboard to store them in, as well as a dressing room with a full-length mirror if you plan to use models.
Step
Set up your lighting.