For the most part, when you first purchase an MP3 player to listen to music with, you will need to set up your MP3 player to work with your computer. The main reason for this is to download the MP3 files on your computer to your MP3 player so they will be available for your listening pleasure. Also, any time a firmware update is available, you will need to connect your MP3 player to the computer to update it.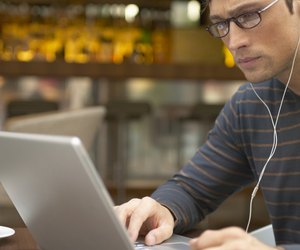 credit: Jochen Sand/Photodisc/Getty Images
Step
Determine if any software needs to be installed on your computer before the player is connected to the computer. Some players, such as the iPod and Zune, require proprietary software that comes with the player to be installed before use. Refer to your user manual for more information. (If no additional software is needed, skip to Step 4.)
Step
Install any software needed using the installation CD provided. Insert the CD into the computer and follow the onscreen instructions that appear to install the software.
Step
Open the software you installed. Some software may direct you to the rest of the configuration for the MP3 player.
Step
Connect the MP3 player to your computer using the USB cable. This allows the computer to recognize and install the drivers for the player. You will also be prompted to select between an automatic sync (all MP3 files synchronized) or manual sync (you choose files to sync).
Step
Go to "My Computer" and double-click on the icon for your MP3 player. You can then drag MP3 files from your computer to the player for playing later. (This is only for MP3 players that do not require additional software.)