Comcast is the largest cable television operator in the United States that also provides high-speed Internet and phone service. Subscribers of Comcast cable use a cable box and Comcast remote to access cable channels. The Comcast remote may be used to control both your TV and cable box without the need for multiple remotes. To get your Comcast remote programmed, enter the code specific to your TV manufacturer.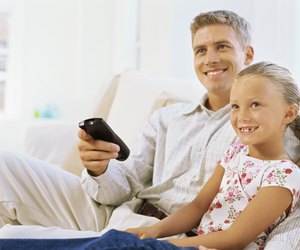 Step
Locate the codes for your specific TV from the Program Your Remote Control List (see Resources).
Step
Power "On" your TV.
Step
Press and release the "TV" key located at the top of the Comcast remote.
Step
Press and hold down the "Setup" key on the remote until the "TV" key blinks twice. Release the "TV" key.
Step
Enter the four-digit code from Step 1, using the number pad. The "TV" key will blink twice if the code is correct and the remote is programmed correctly. If the "TV" key doesn't blink, locate and enter the correct code into the remote.
Step
Point the remote at your TV and press the "Power" key. The TV will turn off. You have successfully programmed your Comcast remote.