Starting a wireless Internet Service Provider business can be lucrative if set up correctly. Using simple small-business guidelines and general knowledge of networking equipment, the average businessman/technician can set up a modest wireless ISP in about two weeks. A small capital investment can be turned into advertising, licensing, location and equipment for substantial profits; the typical wireless ISP can run with minimal staff and limited overhead.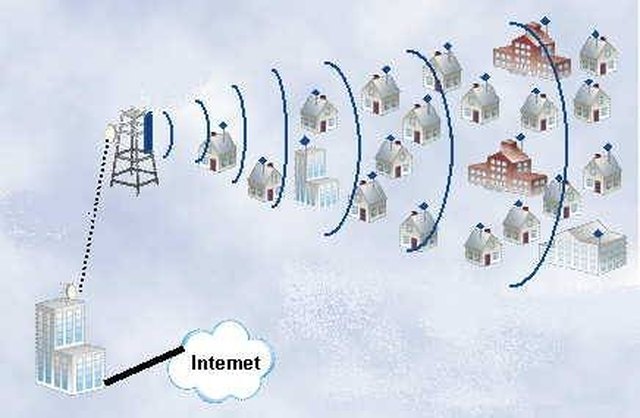 Step
Apply for a small business license from the local authority. These are usually the county offices, located in the "county seat" town, normally the largest town in the county. There will be fees associated with the application, and if the office requires a physical address before a license can be issued, skip to step 3.
Step
Rent office space closest to the center of town, preferably in a tall building or on a hill, and purchase a business-class high-speed line to the location from the ISPs available. Cable or phone companies are more likely to install the necessary infrastructure for business clients, not residential clients, when ordering fast Internet connections. Request the highest speed available, up to a T-1 connection, so that the bandwidth can accommodate growth. If the local ISPs are truly not up to par, then satellite systems also have business packages that could do the job. These require a south-facing location to mount the antenna and are usually slower than hard-wired connections.
Step
Install the wireless equipment by attaching the outdoor wi-fi antenna to the highest point possible and linking the wireless equipment to the business's ISP and antenna. There is no FCC or governmental restriction on transmitting 802.11 signals, so long as the equipment is a retail, low-wattage router. Higher power equipment over a few watts could necessitate a radio broadcast license. Average wireless access points can cover an entire town if properly situated on a tall structure with a good, high-gain directional antenna. Set up the router's software per the user's manual to use encryption and passwords to prevent unauthorized access.
Step
Advertise the wireless ISP locally in newspapers, or with mailers and fliers. The more people who know about the wireless access point, the more will sign up to use it.
Step
Configure the customer's computer for use with the wireless router by searching for the access point with their software and linking to it. Most home wireless equipment will have inadequate antennas, so providing an inexpensive exterior antenna for free will lure more customers who doubt their equipment.