You can't just go to a store anymore and just purchase a new television set. You have to get video cables, audio cables, cables to tie all of those cables together, and so on and so on. Then you have the problem of trying to decipher which types of cables to buy. Some brands are outrageously expensive, while others are less expensive. Because HDMI cables can exceed $100, it's time to find out how to tell the difference between high- and low-quality HDMI cables so you can decide whether they are really worth the extra money.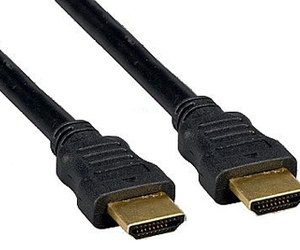 Step
Determine your needs. Most audio/video shops carry two different variations of HDMI cables: standard HDMI and high-speed HDMI. Believe it or not, there is a difference between the two, but the question you need to ask is: does the difference relate to my needs?
Step
Standard HDMI cables, often called Category 1 HDMI, deliver data at a speed of 76 MHz. This is equal to a signal of 1080i.
Step
High-speed HDMI cables, or Category 2 HDMI, deliver data at a speed of 340 MHz. This type of HDMI cable is capable of handling the highest amount of bandwidth available. It offers the equivalent of a 1080p signal. This type of HDMI cable is ideal for displays with very high resolutions, specifically WQXGA monitors with resolutions of 2560x1600.
Step
While high-speed HDMI cables are capable of providing increased refresh rates and improved color depths, depending on the size of your monitor, you may not even be able to tell the difference.
Step
When each HDMI cable is attached to televisions below 32 inches, the picture quality will typically look the same to the naked eye. However, once you get into the larger displays with greater resolutions, the disconcerting eye will more than likely see some advantages in using the high-speed HDMI cable.
Step
If you are purchasing a 26-inch LCD monitor with a resolution of 720p, there is no need to shell out the money to purchase the high-speed HDMI cables, as your television set won't be able to take advantage of the high-speed capabilities anyway. Save the money and put it toward a Blu-Ray player, which of course will need another HDMI cable.