Sometimes your Facebook pictures do not look quite right. You may wish to change the cropping or the overall color tone, for example. While you can use a Facebook application to edit your photos online, you may prefer to do it yourself offline on your computer if you do not want to disclose information to a third-party software. Windows 7 and other operating systems come with basic image editors that let you edit pictures for free.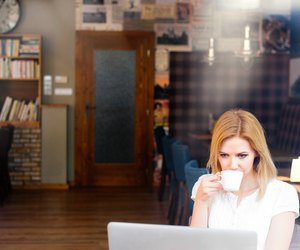 credit: Halfpoint/iStock/Getty Images
Edit Photo
Step
Save a copy of your Facebook profile picture to your computer. Go to "Computer" and browse to the picture file.
Step
Right-click the file with the mouse, click "Open with" and select "Windows Live Photo Gallery."
Step
Click "Edit, organize or share" on the Photo Gallery menu at the top. When the photo gallery appears, double-click the profile photo's thumbnail.
Step
Click "Fine tune" in the "Adjustments" group in the Photo Gallery ribbon.
Step
Click "Adjust color" on the right pane to collapse the color adjustment options.
Step
Click and drag the "Tint" slider to the right. Click and drag the "Color temperature" slider to the right and then the left. As you move the sliders, watch what happens to your Facebook profile photo.
Step
Click and drag the "Saturation" slider if you want to increase or decrease the color strength as well. If you also want to change the brightness, contrast, shadows or highlights of the photo, click "Adjust exposure" and make changes there.
Step
Continue adjusting the sliders until you find a combination that creates the purple effect you want.
Step
Click "Close file" to save the changes. Or click "Revert to original" to undo all edits.
Upload Photo
Step
Log in to Facebook and click "Profile."
Step
Hover the mouse over your current profile photo .Click "Change Picture."
Step
Click "Browse..." and locate the photo you just edited. Click "Open." Your updated photo will now appear as your Facebook profile picture.