The U.S. government has built a large cloud of positioning satellites into Earth's orbit, and it is this satellite system that powers the Global Positioning System (GPS) navigation network. Since the advent of this network, cell phone manufacturers--including Apple--have included the ability to use their devices as navigation tools. The iPhone may be tracked through a marriage of Google and a specific mobile application designed by Google for this very purpose. The software is free of charge and, although proprietary, is offered in a non-commercial-use capacity.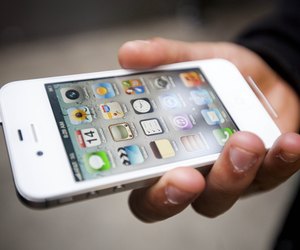 credit: Michael Nagle/Getty Images News/Getty Images
Step
Use your iPhone data plan and point your mobile browser to Google's official Latitude download and install page. Google provides this access at www.google.com/latitude.
Step
Consent to Google's non-commercial use agreement by checking the I Agree box, which appears under the agreement on your iPhone's screen. Authorize Google to install the Latitude software onto your iPhone. The installation page automatically recognizes that your device is an iPhone, so no additional information is needed.
Step
Instruct your friends and family, or anyone who agrees to tracking one another, to also install the Latitude application onto their iPhones. The Latitude application only permits tracking between those who have authorized their devices to be tracked. This is a privately authorized tracking system, and the locations of you and your friends are not able to be viewed by the general public.
Step
Turn on the Google Latitude application any time you desire your friends and family members to track your location. Have them turn theirs on when you would like to see their progress, such as when traveling.