Nikon's line of compact digital cameras includes the popular CoolPix line. These cameras run on either disposable or rechargeable batteries, and they store photo files on flash storage cards. Once you've taken photos, you connect the camera to your computer via USB cable and download the images for editing and archiving. Occasionally, a problem will occur during the connection procedure. This can usually be attributed to the USB cable or camera drivers.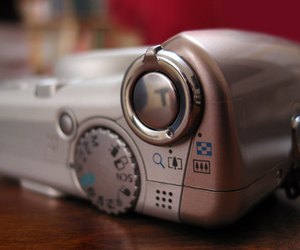 Step
Check the cable. The USB cable is designed to fit in the USB port in only one direction. If the cable isn't properly aligned, no connection between the camera and the computer will be made. Check to make sure that the cable is inserted properly.
Step
Connect the USB cable directly to the port in your computer. If you use a USB with multiple ports, it can cause communication issues and is less than optimal for data transfer. Instead, connect the USB cable directly to a port in the back of the computer. Ports in the front or side can also cause connectivity problems.
Step
Recharge or replace the batteries. It could be that your camera doesn't have the power needed to sustain a connection. Connect using AC power when applicable or change or recharge your battery and try to connect again.
Step
Update your drivers. Visit the Nikon website (see Resources) to search for updated drivers for your camera. If none are available, go to your Windows Control Panel and use the "Add/Remove Programs" feature to remove the Nikon drivers from your computer. Reinstall them by inserting your original Nikon camera disc into the optical drive and follow the on-screen prompts.