Samsung is one of the largest manufacturers of consumer electronics in the world. Its products are well-known and trusted, however, as many high-end electronics, glitches can occur. They are fairly simple to diagnose, however, whether it be an issue with picture quality or replacing a lamp. There are a few troubleshooting steps you can run through on your own.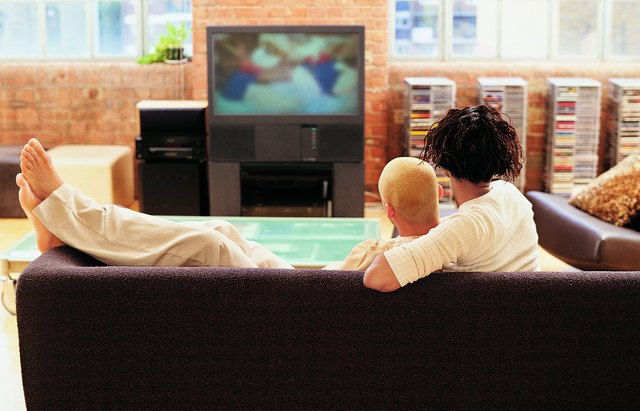 Step
Check to see that the power cord is securely plugged into the electrical outlet if the unit will not turn on. Try plugging another appliance into the same outlet to check that it is "hot." Inspect the household electrical panel for any tripped breakers or blown fuses. Reset the breakers and replace fuses with others of the exact same amperage rating. Ensure that the batteries in the remote control are fresh and replace as needed.
Step
Press the "Source" button if there is no picture or sound. Try switching to another channel as the current one may be experiencing broadcast problems.
Step
Replace the lamp if the screen is darker than usual, or when all three LED lights ("Standby/Temp," "Lamp" and "Timer") on the front of the TV are flashing. Turn off the power and wait 30 minutes for the lamp to cool before replacing. Unplug the TV and use the screwdriver to remove the screws to the lamp cover. Remove the cover. Wearing gloves, push the clip and pull down the lamp holder. Separate the lamp by holding the handle and pulling it out. Replace the lamp with another of the same type as the old one. Align the lamp cover with the groove and secure the screws.
Step
Unplug the TV for at least 30 seconds and then plug it back in if the TV behaves erratically. This can sometimes reset the unit.
Step
Use the menu system to adjust the "Brightness" and "Contrast" settings if the image is too light or too dark.
Step
Turn the TV off for a few hours before using if condensation forms inside the unit and the picture is blurred or distorted. Moisture can sometimes form if there is a sudden change in temperature, from cold to warm. This can also occur when the TV has been sitting in the path of an air-conditioner draft.