While the Sylvania SDVD7015 portable DVD player can add convenience and portability to your movie viewing, you may run into some problems with it at some point. Most problems with your Sylvania portable DVD player can be easily fixed by following a few quick troubleshooting steps.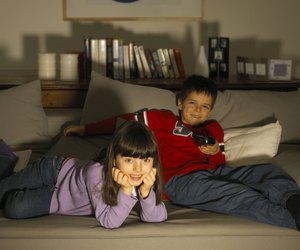 Step
Check the power cable. If you're using the AC, make sure the AC adapter is firmly plugged into the power port and that the other end is plugged in to an electrical socket. If the power cable is unplugged, make sure that the battery is charged. If the battery is not holding a charge, you will need to replace it.
Step
Check any connections if you are using the Sylvania DVD player to play a disc on a television. Make sure all wires are firmly connected.
Step
Clean the disc with a soft, scratch-free cloth. Always clean a disc from the center out, like the spokes of a wheel. Do not clean in a circular motion, as this can damage the disc.
Step
Insert the disc with the front of the DVD facing up. Make sure that the disc is firmly situated in the player.
Step
Disable the parental lock. If it is turned on, the parental lock may stop you from watching certain movies. The default, factory-installed parental lock code is 3308.