The Digital Decor digital picture frame displays slide show presentations of your digital photos. It can be updated with new photos directly from your camera or from a camera memory card. Many of the troubleshooting issues may revolve around making the connection between the memory device and the picture frame, as well as the operations of the picture frame. Using the picture frame is made easy with troubleshooting basic steps.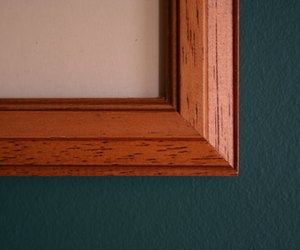 Connecting
Step
Insert the memory card into the memory card slot of the digital picture frame. If you are using a USB Flash drive, insert it into the USB port of the digital frame, and connect it to the USB port on the camera. Press "Power" on the camera and the digital frame. A slide show should automatically launch.
Step
Press the "Arrow" buttons on the remote control if the slide show does not automatically appear.
Step
Remove the clear plastic tab from the battery compartment of the remote control. The remote control will not activate until the tab is removed.
Step
Press "Slide Show" or "Split Screen" on the remote control to display the images.
Step
Inspect the USB cable if the slide show doesn't launch automatically or by using the remote control. A damaged USB cable could be preventing the connection between the camera and the digital picture frame. Use a different USB cable if the problem persists.
Step
Press the "Rotate" button on your remote control if the photo appears at the wrong angle when displayed on the digital picture frame. This may be the way the photo was uploaded.
Step
Press the tab located on the right side of the screen if the screen is damaged and you want to remove the screen from the frame.
Step
Slide the long tab of the new frame into the frame slot, and push the tab on the right side to snap it in firmly.
Step
Press the retaining clip on the remote control sideways, if the remote control is not working; the batteries may need to be replaced. Pull out the battery holder and replace it with a new 3-volt lithium CR2025 battery. Slide the battery into the slot and push it in until it snaps in place.