You look down at your iPhone, expecting to see your homescreen, but instead are greeted by an error message or some screen that otherwise renders your phone inoperable. Your cell phone is now nothing but a brick. Your heart begins to race at the thought of having to shell out big bucks to buy a new iPhone. Don't panic quite yet; in some cases, it's possible to unbrick your iPhone.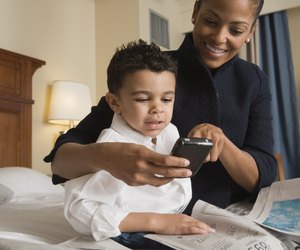 Step
Turn on your iPhone. Do not worry if it gets stuck in boot mode or some other screen. Wait 10 seconds to proceed to the next step.
Step
Click on the iTunes icon on your computer to open the program.
Step
Plug in the iPhone to the computer using your cable that you normally use to connect to iTunes.
Step
Put the phone in DFU mode by holding down the power and home button at the same time for about seven to eight seconds, until the screen shuts off. Keep holding them down.
Step
Release only the power button after the screen has been dark for about five seconds.
Step
Hold the home button until you see a pop-up in iTunes telling you that your iPhone is in restore mode and must be restored. The popup should appear within 30 seconds after releasing the power button.
Step
Click OK on the pop-up message and wait for another message letting you know the iPhone is safe to unplug from the computer.