By default, LinkedIn sends you email messages on site elements including suggestions, invitations, updates, news and comments. If you tire of this constant barrage, you can unsubscribe to some or all of these notifications and regain a more manageable inbox. Likewise, if you gave LinkedIn your cell number, you might additionally receive "push notifications" through your mobile device; these messages can also be stopped.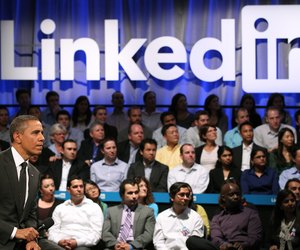 credit: Stephen Lam/Getty Images News/Getty Images
Emails and Push Notifications
Step
Log in to your LinkedIn account.
Step
Move your mouse pointer over your profile picture and select "Privacy & Settings" from the drop-down menu.
Step
Click "Communications" and select "Set the Frequency of Emails" or "Set Push Notifications Settings."
Step
Click a category, such as "Messages From LinkedIn" or "Updates and News," to expand the section.
Step
Click the "Frequency" drop-down menu next to any item and select "No Email." Push notifications don't offer a Frequency option; instead, uncheck the box next to an item.
Step
Click "Save Changes."
Step
Repeat for each category and item from which you wish to unsubscribe.
Other Messages
Step
Log in to your LinkedIn Account, point to your profile picture, click "Privacy & Settings" and choose "Communications."
Step
Click a communication setting, such as "Turn On/Off Invitations to Participate in Research," "Turn On/Off Partner InMail" or "Select the Types of Messages You're Willing to Receive."
Step
Uncheck any item you wish to cancel and click "Save Changes." Repeat to cancel additional items.