The memory for the iPhone comes built in and sealed up tight. This means you can't remove or add onto the memory of your mobile phone. However, Apple does periodically release updates for the phone. These updates upgrade the phone's memory and allow it to function smoother with all of the content you are storing on it. Thankfully you don't need any additional equipment than what you already use for the phone.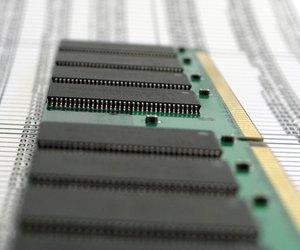 Step
Plug the USB cable into the USB data port on the bottom of the iPhone. Connect the other end of the cable into a USB drive on the computer. Momentarily iTunes launches.
Step
Select the iPhone under "My Devices" on the left side of the program window.
Step
Click the "iTunes" tab at the top of the screen, then select "Search for Updates." iTunes now searches for any available upgrades for the iPhone.
Step
Select "Download and Install" when the upgrades are displayed. iTunes now downloads the upgrade to the computer. Once the upgrade has finished downloading, the computer syncs with the phone and installs the upgrade. The upgrade removes all of the content currently stored on the device, then puts it back on (no need to back up any information, iTunes already does it for you).
Step
Remove the iPhone from your computer once the upgrade as finished installing,