As of December 15, 2011, Yahoo Screen -- then named Yahoo Video -- removed the option for users to upload content to its website. The purpose of the site shifted to providing free videos and trending viral clips shared by Yahoo itself. However, those with a Yahoo account did not lose the ability to upload their content in general. Instead, Yahoo encouraged users to use Flickr, a photo and video hosting site the company purchased in 2005.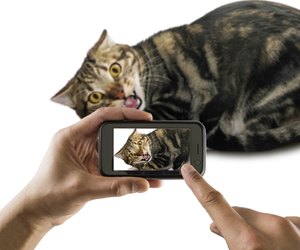 credit: Manuel-F-O/iStock/Getty Images
Step
Navigate to Flickr's Home page (see link in Resources). Click "Sign In" and sign in using your Yahoo ID and password. If you do not have one, click "Create New Account" and follow the steps.
Step
Click "Upload" from the navigation bar on the Home screen that will appear.
Step
Click "Upload photos and video" and navigate to the video on your computer through the file viewer that appears. Click on the icon for the video and click "Open." Alternatively, open the file folder containing the video and drag the file icon into the upload screen. The time it takes to upload the video will vary depending on the size of the video.
Step
Fill in details about the video in the Editing 1 Photo panel on the screen that appears. This panel enables you to change the name of the video, add a description of its contents, tag it with keywords, tag the people who appear in the video and change the ownership settings.
Step
Click "Upload 1 Photo." A screen will appear verifying the video's privacy settings. If you are content with the settings, click "Upload." Otherwise, click "Cancel" and change the privacy settings in the Editing 1 Photo panel. Once you have chosen the appropriate sharing options, click "Upload 1 Photo" and click "Upload."