The built-in Voice Memos app on the iPhone not only records memos and includes a basic trimming tool, but it also allows you to share your recordings without having to use a computer. Pick a memo and open the Share menu to send a recording over the Internet via email, through a text message or directly to a nearby device using AirDrop.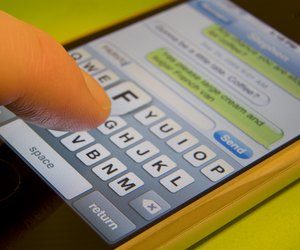 credit: Jeff Metzger/Hemera/Getty Images
Step
Open the Voice Memos app and select a recording from the list or press the "Record" icon to create a new memo.
Step
Press the "Share" icon, which looks like a square with an arrow. The Share menu offers three options for uploading memos: AirDrop, Message and Mail. Unlike using the Photos app, you can't share voice memos through Facebook or Twitter. To send a memo to several people or use more than one type of sharing, return to the Share menu after sending the memo once.
Step
Tap a person's name to send a voice memo to another iOS device in the same room using AirDrop. After you select a person, the recipient needs to press "Accept" to open the memo.
Step
Choose "Mail" to attach a memo to an email as an M4A file. Fill in the "To" address, write a message in the email and press "Send." Windows and Macintosh computers can play M4A files without additional software, so you can email memos to anyone, even if your recipient doesn't own an iPhone.
Step
Pick "Message" to send a memo using a text message. If you write to another iOS user, your phone sends the message using iMessage for free. If not, the message uses an MMS text message. You can message memos to any type of phone that supports MMS, but the recipient's phone must support M4A audio files to play back the memo.